Laughs, Jokes, Animal Antics, Nautical Nonsense, Humbugs and Bedbugs, Keys and Coffins. Tease your brain with Witty Word Puzzles. Read riddles of how many chickens you can fit into an empty box, why Dracula was hanging around the computers and what the elephant said to the naked man.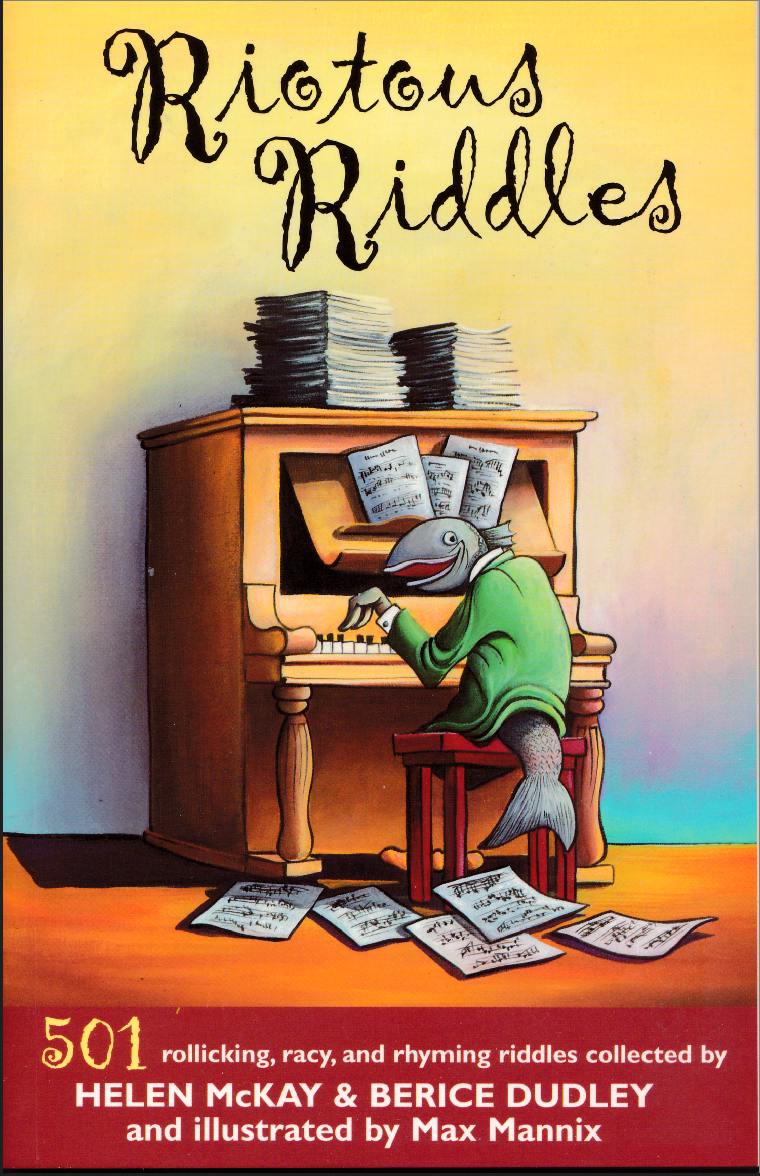 Riddles collected by Helen McKay and Berice Dudley, Illustrated with 30 drawings for kids by famous Australian artist, Max Mannix. See Illustrated Riddles.
SPECIAL PRICE $3.00 for book "Riotous Riddles"
"Are we there yet?" Don't travel anywhere with kids in the car without a copy of Riotous Riddles. Keep them happy and occupied asking you and each other all 501 riddles from this riddles book for Aussie kids.
Have laughs as you ask your friends any of these hilarious riddles, rhymes and conundrums from Australian and New Zealand kids in this riddle book. Riddles are a wonderful way to play around with words and amuse kids; this exercise can easily fill up a couple of otherwise dull hours and shorten a long journey. We've had hours of fun compiling this book.
Like storytelling, riddles are able to access the pictures in your mind which help you solve the puzzles they pose. In fact many riddles cannot be solved without using the process of visualisation.
Categories of riddles: Animal Antics, Nautical Nonsense, Nutty Corny & Fruity Things, Thinking Logically, Humbugs, Bedbugs & Stingers, Things That Slither & Slide, Feathers Beaks & Claws, Monstrosities, Incredible Edibles, Witty Word Puzzles, Silly Signs, People Parts & Peculiarities, Wearables, Cosmic Conundrums, Brooms Beds & Other Haberdashery, Keys Coffins & Tricky Knick-Knacks.
Paperback 127 pages. 130 x 200 x 12mm
Published: Hale & Iremonger 1999, Sydney Australia
ISBN 0868066648, 9780868066646
BUY Riotous Riddles DIRECT from the authors:
@ AU$3.00 + postage $4.00 Mailed anywhere in Australia.